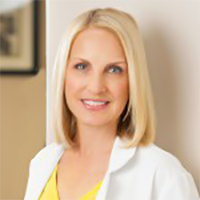 Dr. Kristin A. Bendikson, assistant
professor of obstetrics and
gynecology at the USC
Keck School of Medicine
(Photo provided by Bendikson)
In a world often obsessed with youth and virility, women may take comfort in knowing their uterus basically doesn't age.
"The uterus is capable of carrying a pregnancy in the late 40s and even early 50s," says Dr. Kristin A. Bendikson, an assistant professor of obstetrics and gynecology at the USC Keck School of Medicine.
The chance that an embryo will become a pregnancy is related to the age of the woman at the time she provides the egg; or, to put it another way, to the age of the egg itself, according to Dr. Bendikson.
Therefore, successfully achieving pregnancy with a transferred embryo has little to do with the age of the woman, ergo the age of the uterus, carrying the embryo to term.
"We know that there are certain pregnancy complications that start increasing when a woman gets around the age of 50," Bendikson says. "Those pregnancy complications rise significantly in the latter half of the fifth decade, around the age of 55."
Bendikson says older women are more likely to produce embryos that are chromosomal abnormal, which is why these women have more difficulty getting pregnant naturally and are more likely to miscarry.
Ironically, this very fact creates the situation where women of advanced maternal age may be able to carry a pregnancy, albeit the biological child of another woman, later in life.
This is because the inability to conceive naturally is what leads to in-vitro fertilization (IVF), and IVF is what leads to the creation of extra embryos that can be donated or adopted to other people who want to have children.
In IVF, eggs and sperm are collected (either the couple's own eggs and sperm, or eggs and/or sperm provided by donors), and the healthiest specimens are introduced outside of the body with the hope of creating embryos.
The embryos (if there are any) are given three to five days to mature, then are transferred back into a woman's uterus to grow into a pregnancy, or are frozen for later use.
IVF is expensive, so the goal is to only do it once if possible. One round of IVF can cost up to $15,000 without egg or sperm donors, and up to $30,000 if an egg donor is needed. If a surrogate is hired to carry the child, that can run up to $100,000.
Along the way, a woman occasionally will end up with extra frozen embryos that she and/or her partner don't intend on using, for whatever reason.
Sometimes these extra embryos are kept in cryogenic storage, sometimes people choose to unfreeze them and let nature take its course, and sometimes people "gift" them to a doctor or a facility or a specific parent-to-be, to help others start their own families.
It wasn't until 1997 that Nightlight Christian Adoptions created the first embryo adoption agency, The Snowflakes Embryo Adoption Program, in response to the growing number of embryos in frozen storage from IVF treatments.
Reproductive endocrinology infertility specialist Dr. Sam Najmabadi of the Center for Reproductive Health & Gynecology in Beverly Hills has been in practice almost 20 years, and confirms that embryo adoption and donation has been around the entire time.
"[But] I almost never saw anybody donating embryos for adoption 20 years ago. It was really rare," Najmabadi says. "I don't know if it's the times, or our education of the patient and discussion with them, but now, more and more of that is happening."
But even with more people choosing to donate or adopt out their extra embryos, finding a family willing to select an adopting family where the woman is older than 45 is rare, according to Kimberly Tyson, the marketing and program director of the Snowflakes Embryo Adoption Program.
She says this is because most of Snowflakes' programs involve matching criteria dictated by the donor (or birth mother, in the case of traditional adoptions). Tyson says Snowflakes does not discriminate on who they take applications from or work with, and that they have worked successfully with people from a variety of circumstances, to include unmarried individuals as well as same-sex couples.
"Adopting families should understand that birth mothers and embryo donor families may have any variety of criteria for what type of family they feel most comfortable matching with, including age, religion, ethnicity, and marital status," Tyson says. "Currently none of the countries where we are working with international adoption allow same-sex couples and most do not allow for singles."
Dr. Najmabadi says that at his fertility clinic, some donors also place restrictions on potential recipients.
However, because embryo donations happening at fertility clinics are also more likely to remain completely anonymous, his donors for the most part are no longer involved after they choose to donate their embryos.
"The age factor, specifically, is really an artificial line that has been drawn in the sand by some embryo adoption agencies," Bendikson says. "There really isn't a difference in a woman's ability to actually carry a pregnancy with an adopted embryo whether she's 48 or 46 or 45."
At Bendikson's clinic, doctors carry out embryo transfers daily, through the age of 53. "And we've done it in certain instances for women who have been a couple years older who have been our patients for a long time," she says.
According to the American Society for Reproductive Medicine, women should not undergo embryo transfers after the age of 55, even when there are no medical issues in that women. Bendikson says this is because the risks of the pregnancy after that age are so high.
Two of the largest medical risks are high blood pressure during pregnancy and pre-term delivery of the baby.
Tyson says the reason it is rare for donors to choose adoptive parents over the age of 45 is that their donors "are trying to select the family that they believe will provide any resulting children with a safe and loving home environment with parents who are healthy and able to care for them."
Along those lines, Bendikson acknowledges there are ethical considerations associated with short-term and long-term consequences of having children at an older age that should be taken into account.
"I think that it's important to consider long-term ability to fulfill the emotional, psychological and physical needs of the child, and also consider what the chances of long-term parental relationships are going to be," she says.
"I also think that it is helpful for anyone that is undergoing embryo adoption or egg donation to undergo psychological counseling so they can make sure that they've thought about all of these issues."
Bendikson recommends counseling not only based on the age of the patient, but also because of the psychological considerations involved, in general, with raising a child that is not genetically his or hers.