Black-and-gold shiny cards covered the seats of the new Banc of California Stadium on April 20, 2018. Fans jumped and chanted as the Los Angeles Football Club (LAFC) took the field for the first time to face the Seattle Sounders.
Unaware of the homophobic chant filling the stadium, 15-year-old Peter Quinn sat beside his father. The infamous goalie kick chant echoed throughout the stadium, packed with a sell-out crowd of 22,000 fans.
Fans yelled the "eh.. puto" chant during goal kicks throughout the night. A game meant to bring a son and father pure excitement opened up a discussion about homophobic language.
GLAAD's Director of Spanish Language and Latinx Media and Representation Monica Trasandes said that homophobia may prevail in every sport, but chants in soccer rank as the most offensive.
"I think most people don't really understand the power of that word," Trasandes said.
Peter's father, Dexter Quinn, said he spoke with his son later that night to educate him about what the chant meant.
"When I first heard it, I thought they were just saying football and then dad later told me it was a homophobic chant," Peter said. "I still don't know what it specifically means, but it kind of just made me worried."
The chant isn't new, yet it continues to be heard in soccer games. Many argue that the chant is part of their culture and that it isn't a homophobic slur.
Before the season started, Quinn had the idea of creating an LGBTQ supporters' group to ensure that the LGBTQ community was represented.
"If we are going to represent everybody, they have to have a voice," said Quinn. "They are part of the city."
Trasandes said she monitors media to ensure that the LGBTQ community is accurately represented.
"That word is a slur, regardless of that person's intention," Trasandes said. "It can be really hurtful to a gay person or a transgender person or a lesbian or a bisexual person in a soccer stadium."
'Puto,' like most words, has several meanings. SpanishDict provides four definitions. As a masculine noun, it means 'fag.'
LAFC, GLAAD and the 23 other teams that make up Major League Soccer (MLS) are working to ensure that the slur stays off the field.
"Nobody can give you a manual to stop it," Rich Orosco, LAFC vice president of brand and community, said. "It really has to start with the social pressure in the stadium."
LAFC, and L.A.'s other soccer team, L.A. Galaxy, host Pride Night, dedicating one night of the season to celebrating the LGBTQ community.
LAFC also displays two rainbow flags every home game during pre-game activities.
MLS Works, Major League Soccer's social responsibility platform, has published public service announcements (PSAs) promoting "soccer is for everyone." The Fan Code of Conduct, provided by the MLS, emphasizes that the league is working closely with teams to create "a safe, comfortable, and enjoyable soccer experience for all guests."
Soccer Culture VS. Homophobic Language
The chant is commonly used by Mexico's national team supporters. During the 2018 World Cup in Russia, Mexican fans chanted the offensive goalkeeper chant and the International Federation of Association Football fined them every time.
"When someone says it in a game, it doesn't mean that you're a homosexual," Diego Sarabia, a Galaxy fan said. "They are kind of saying that you're a wuss."
Associate professor of Spanish Linguistics at the University of New Hampshire, Holly Cashman, said that language is not static.
"The nature of language is that any living language changes over time and similar debates are happening over words in lots of different languages as society's notions about sexuality change," Cashman said. "It's something that is evolving and something that is always subject to debate and negotiation."
After hearing the goal kick chant at LAFC's home opener, the Pride Republic, an LGBTQ supporter group, took action. The group shared on social media that night that the behavior during the game was unacceptable.
The following Monday, a joint statement was released by LAFC co-owner Tom Penn and Josef Zacher, the president of the 3252 Independent Supporters Union.
"The offensive goal kick chant is wrong and not what we are about," the statement read. "We ask that all of our fans and supporters work to hold each other accountable to eliminate this from Banc of California Stadium."
Soccer fans voiced their opinions on LAFC's social media post. @Marioamonge commented, "Aaaah. Y'all gay. I hope it never stops. Keep the tradition going. Nobody is being homophobic. This is football! Not politics. Football!"
@saramctea wrote, "Thanks for making this statement @lafc. We in the LGBTQ community deserve to feel respected and safe in the Banc. I hope you'll take the promise seriously and eliminate the chant in 2019."
The comments shined a light on how different communities define the word. It ignited a debate about politics and soccer. LAFC, however, remained firm that the chant must be eliminated and that the club would work on ensuring an inclusive environment.
After experiencing the homophobic chant twice in their inaugural season, LAFC continues to work with GLAAD and the Pride Republic to welcome the LGBTQ community. Created on the motto of "Shoulder to Shoulder," the club is looking for the best way to eliminate the goalkeeper chant.
"The reason why the crest means something for so many people is because we are going to be a club that takes a stance," Orosco said. "The goal kick chant has never been completely solved around the world and we did extensive research to try to figure out if somebody found the ingredients to stomp it out."
GLAAD's goal is to make people realize that the goal kick chant is homophobic. Trasandes praised LAFC's response and said the team even reached out to them for help.
"I know last year they were really disappointed when the slur was used so they are really keen to not let it happen again this year," she said.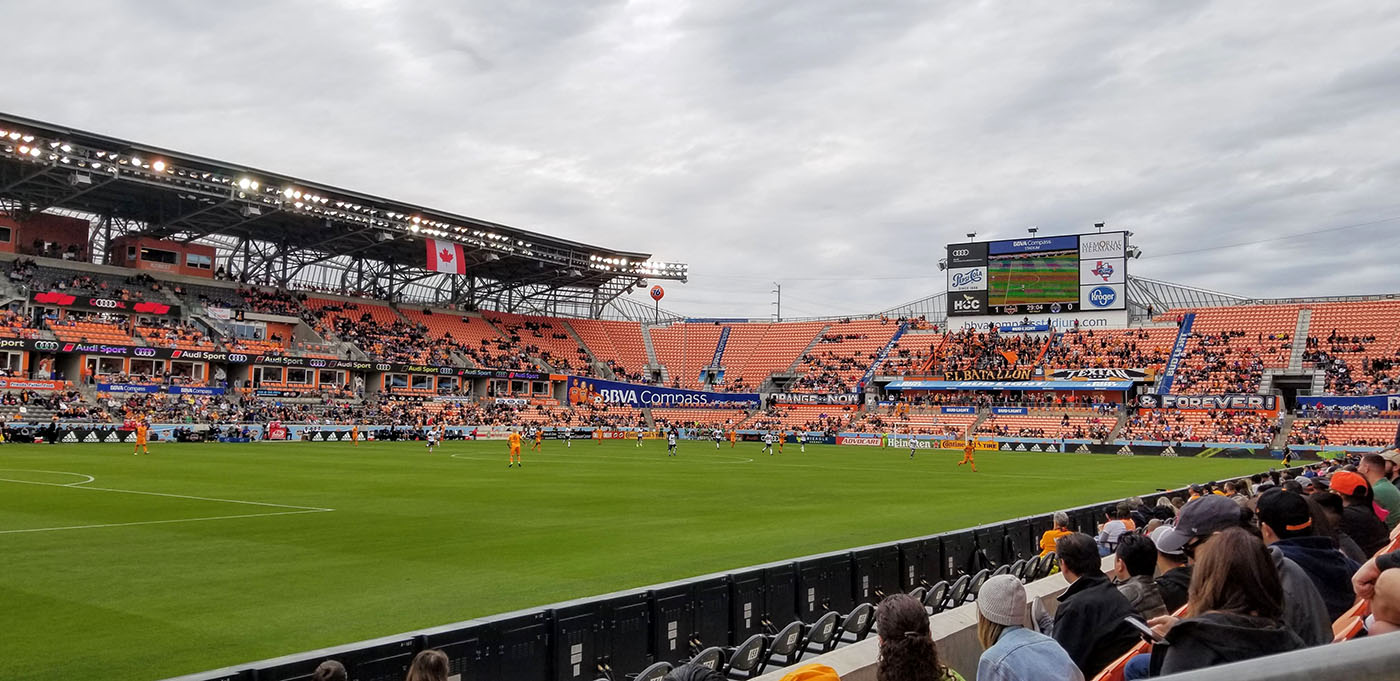 Homophobia in Sports
Managing Editor of OutSports.com Dawn Ennis said that homophobia is present in all sports.
"It's very common among a large group of men that the best way to insult someone ... is to suggest that they may be either feminine or gay," Ennis said.
Ennis said that during a New York Mets and Yankees game, Mets fans began to yell at Alex Rodriguez and Derek Jeter.
"When Jeter would come up to bat, the Mets fans were chanting 'A. Rod's boyfriend,'" Ennis said.
LAFC began the 2019 season by creating a video message for fans to watch that included players and coach Bob Bradley. The video focused on the goal kick chant and the importance of inclusion at the Banc of California Stadium.
Teams like LAFC, Houston Dynamo, Atlanta United and several other clubs have released statements vowing a zero-tolerance policy against discrimination.
What is the MLS doing?
The league continues to provide resources for the 24 teams to use during game days. Some teams have taken it on themselves to regulate the goal kick chant by creating alternatives that are appropriate to use.
MLS Security provided a statement on what the league is doing to ensure that the teams are following the Fan Code of Conduct.
The Fan Code of Conduct states, "Major League Soccer, its Clubs and its venues are committed to creating a safe, comfortable, and enjoyable soccer experience for all guests in and around our stadiums and facilities."
Christopher Olsen, senior coordinator of safety and security, said that the league upholds the Fan Code of Conduct.
"The League Office works hand-in-hand with each club to ensure proper enforcement," Olsen said. "Aside from the staff that the club and venue provide, the League employs two soccer security representatives at each club for quality assurance."
Anyone who commits "Level 1 Offenses" of the Fan Code of Conduct is removed from the stadium and cannot return for six months to one year. The individual must also complete an online fan education class to be reinstated.
In addition to the security, MLS Works launched their #SoccerForAll platform in March 2018 to promote inclusion in soccer. This year, MLS Works released another video and promoted on Twitter that they "do not bully or discriminate."
Although PSAs are being created to foster inclusion in soccer, the homophobic chant continues to take center stage. For now, teams continue to release statements on how they will make their stadiums a safe and family-friendly environment.
Houston Dynamo's senior director of communications, Zac Emmons, said that they aren't doing anything new this year to regulate the chant, but that they continue to do what they've done in the past.
"Our guest services' reps know to be on the lookout for it and when they see or hear somebody saying it, they'll go up to them and ask them nicely to say Houston instead," Emmons said.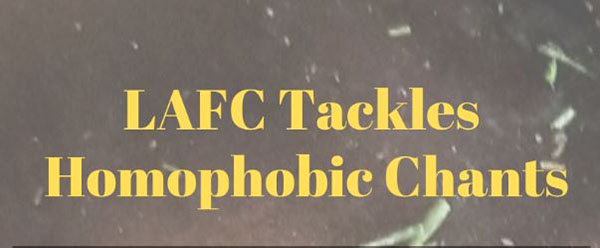 Click to read what LAFC is doing to create an inclusive environment.
Orosco said that LAFC will continue to take a hard stance on the goal kick chant and that it doesn't belong in their stadium. By working closely with the community, LAFC hopes to eliminate the chant from the Banc of California Stadium and to make everyone feel welcome.
"We do not stand for this," Orosco said. "If I'm sitting next to somebody that does it, I have to look them in the eye and they have to feel that it's not a part of our culture."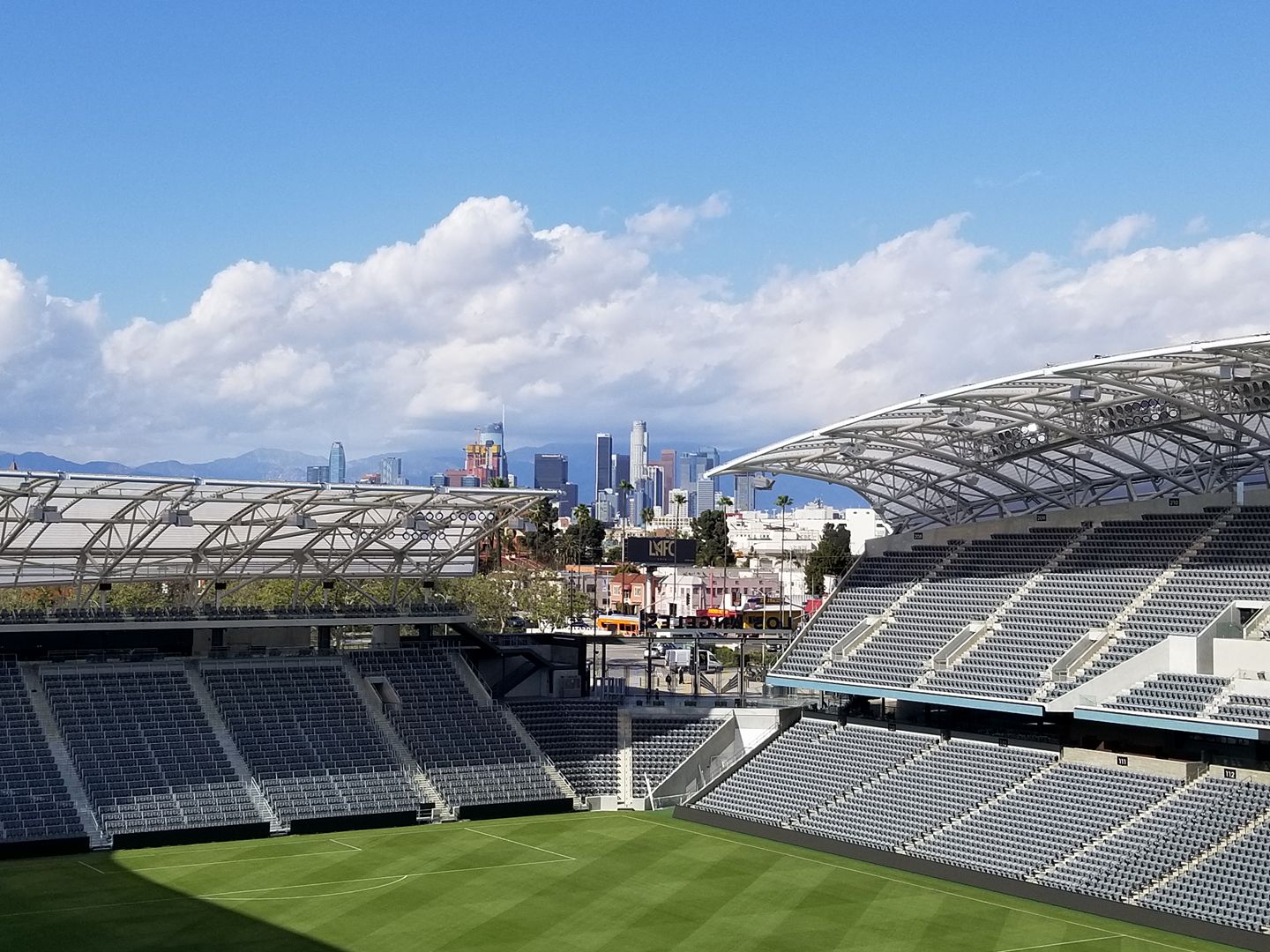 The Future of Soccer
As the MLS continues to expand, new measures will have to be taken to ensure that every stadium is creating a family-friendly environment.
Austin Anthem, Austin FC's supporter group, hopes to create an inclusive stadium for its inaugural season in 2021. With two years to go Austin Anthem wants to ensure that the goal kick chant stays off of their field.
Josh Babetski, president and founder of Austin Anthem, said he wants to ensure that all feel welcome in Austin FC's stadium.
"What we've tried to do is establish point people to focus on the different demographics and the different types of residents here in Austin," Babetski said. "To make sure we aren't being neglectful and not marginalizing any group."
Austin Anthem's Goals
Natalie Czimskey, director of women's engagement, said her role in Austin Anthem is to make sure that they are considering the female perspective when it comes to appealing to members.
"When I got introduced to Austin Anthem they were clearly looking to be inclusive," Czimskey said. "I had never seen an SG that was so focused on including people over excluding people."
The goal for Czimskey is including events accessible to all types of women: women who are single, who are mothers, who are expecting a child, or who have families.
"Lots of different types of females feel like it's accessible and understand that it's going to be a welcoming place to land," Czimskey said.
Christine Hanley, director of LGBTQ, said her main role is to make sure that anyone who isn't straight feels like they are welcome.
"I think Austin is a really great place for anyone to feel involved," Hanley said.
Hanley said her goal as director is to involve more people from the LGBTQ community and to let more people know that they accept everyone.
Chloe Hanson, director of accessibility, said her role is to make sure that their events are accessible to people with disabilites and families who have children with special needs.
"Moving forward a big goal is to make sure we are reaching them," Hanson said. "Either through their social living communities or their workplace communities or general organizations here in Austin that work with groups of people with disabilities."
Peter's Journey
In October 2017, Quinn got the idea of including the voice of the LGBTQ community at soccer games. A month later, when Peter came out to his family, his father thought that LAFC would be a great opportunity for his son to get involved with sports.
Peter said that it was at a Christian summer camp when he really thought of who he was.
"I was just by myself one day at a summer camp and I just took a long thought of everything that happened in my life," Peter said. "It just came to me."
A day before the camp ended, Peter said he told his friend that he was gay. He later came out to his mom and a month after, he came out to his father on Thanksgiving.
"To hear them say that they already knew, it just really freaked me out," Peter said. "Where I am now, I feel happy and safe, I feel safe at every LAFC game."
His father said that by being able to watch soccer with his son, Peter was introduced to a sport that allowed him to make friends from everywhere.
"It bonds people so that's why I made it for him," Quinn said. "Now that he has been around all these great role models, all these new friends that we've made it's just been an amazing experience."
Now that the 2019 season is underway, Peter and his father hope that the chant stays off the field and that people support one another to create a safe space.
"I know we have a lot of work ahead of us," his father said.