How Los Angeles plans to become a bike-friendly city
Mobility Plan 2035 calls for hundreds of miles of new bike lanes to reshape how LA commutes
---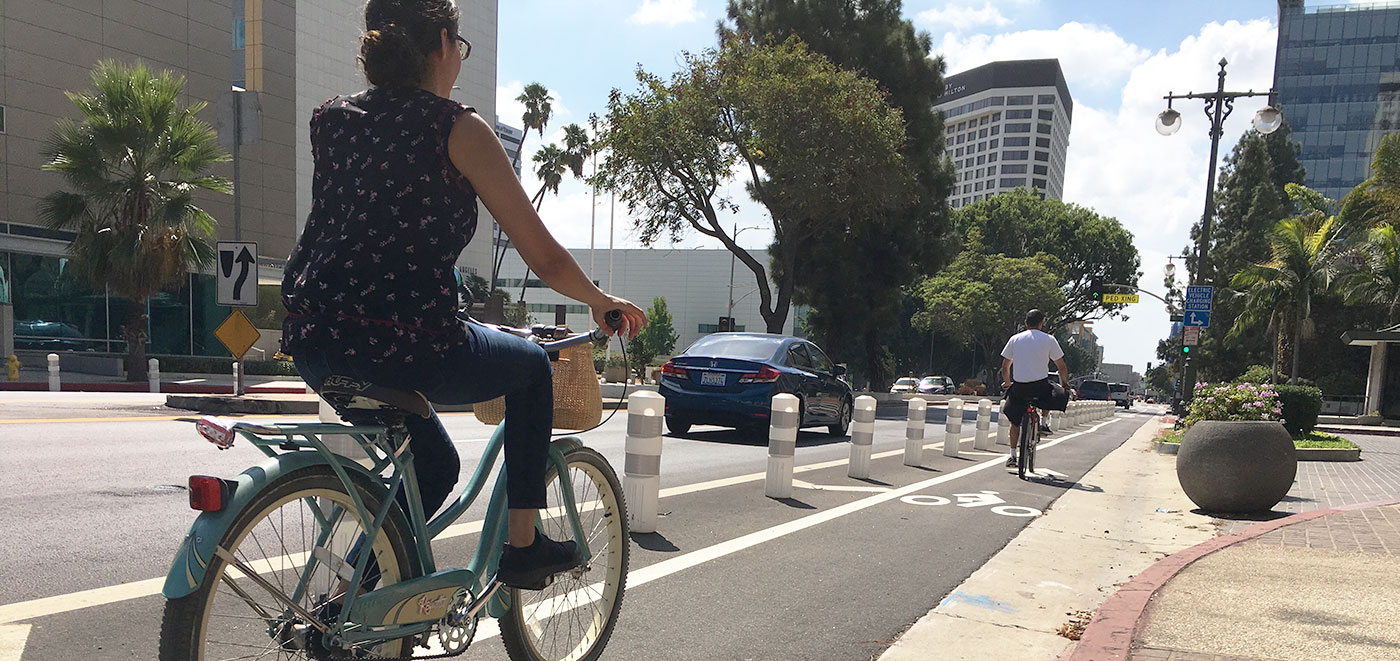 ---
Each morning Pedro Izquierdo rides his bike from his home in Koreatown to the downtown bike shop where he works. It's a hectic commute. He weaves in and out of LA traffic, dodging car doors and pot holes while staying constantly on guard for distracted motorists.
"They'll look in the mirror and their brain won't register that there's someone on a bike next to them," Izquierdo says. "They'll take a right turn and they'll clip you right there."
Izquierdo is a seasoned cyclist and races competitively when he's not working at DTLA Bikes. He grew up in Puerto Rico before moving to Brooklyn and then Los Angeles two years ago, and says it's easier to be a cyclist here than back home, but still feels unwelcome on LA's streets.
"I come from a place where I'm always looking back when I hear a car," Izquierdo says. "Here I feel I little bit safer, but still, anywhere I ride it's the same. It's cars vs. bikes."
To make LA more accommodating to bikers and pedestrians, the City Council passed Mobility Plan 2035, a 20-year project calling for hundreds of miles of protected bike and bus-only lanes along many of the city's busiest corridors, often leaving less space for cars. The plan's primary goal is safety, and it sets an ambitious goal of eliminating all traffic fatalities by the year 2025.
"Protected bike lanes make all of the difference in the world," Izquierdo says. "A car can't park in the bike lane if they're protected. I think protected bike lanes are the way to go."
Take a tour of LA's newest protected bike lane
One of the first lanes built under the plan opened this summer on Los Angeles Street between Union Station and City Hall. It boasts a protective buffer of reflective traffic posts, separated transit islands for bus stops and the city's first traffic signals dedicated to cyclists. Despite the fact that the lane is located on a lightly traveled section of the motorway and lasts for only about a half mile, it serves as a hopeful blueprint for future bike projects—with each element designed to give bicycles and cars equal footing on the road.
"The lane is meant to attract the person who's not necessarily a diehard cyclist but knows how to ride a bike and would do so if they felt safer," says Kevin Ocubilo, Transportation and Planning Deputy under Councilmen Jose Huizar.
City officials have plans to add similar lanes on Sunset Boulevard, Venice Boulevard and Figueroa Street within the next year. The Figueroa street project is one of the most ambitious parts of the Mobility Plan, turning traffic lanes into dedicated bikeways along some of the busiest sections of the downtown street.
According to census data, less than 1 percent of Angelenos currently bike to work. While phasing in an expansive plan to benefit a tiny portion of the population may seem like poor planning, the city is betting that by creating a safer network of bike-friendly thoroughfares more people will decide to ditch their cars and commute by bike.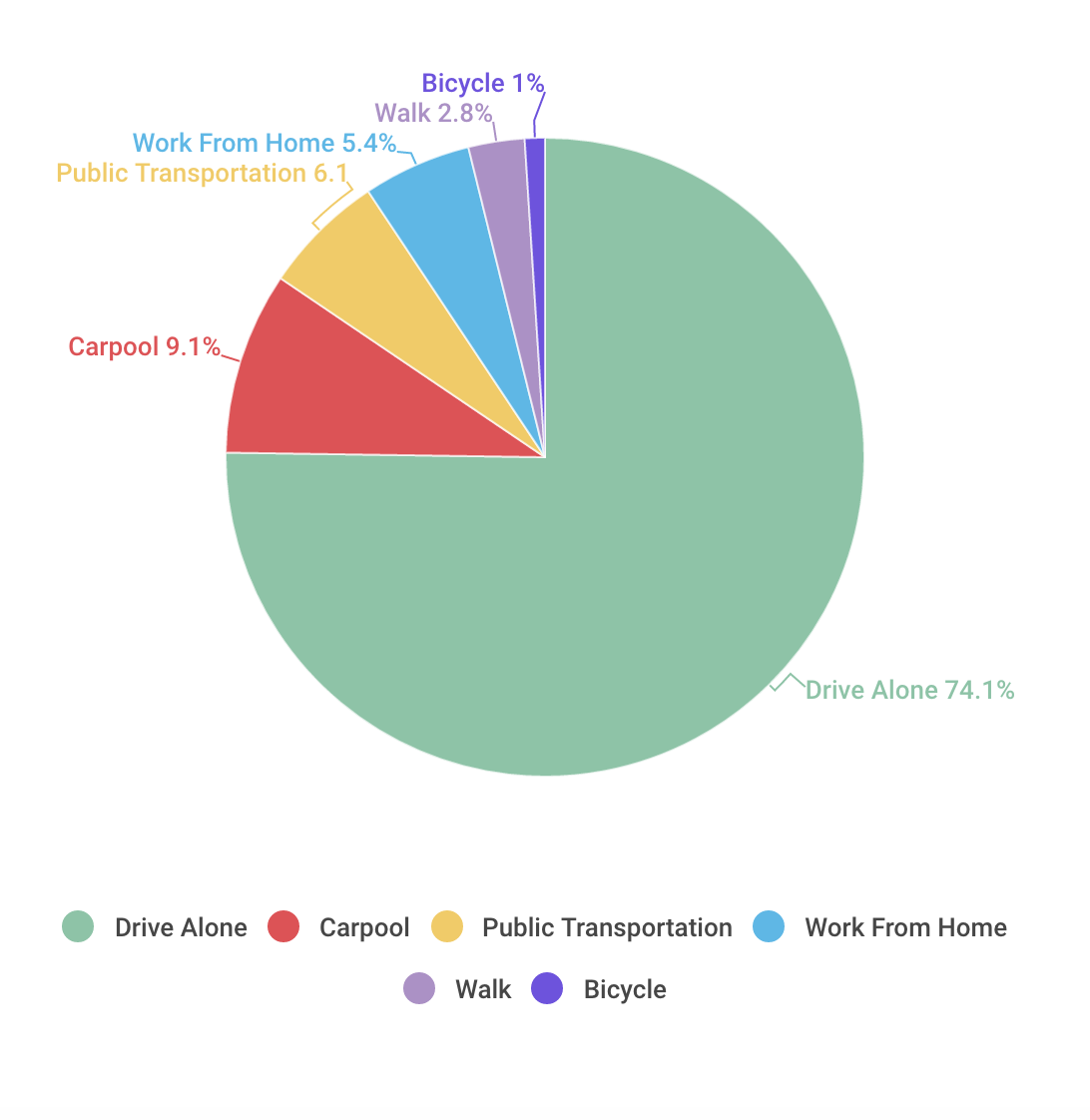 If city planners envision a European-style muti-use grid, critics see a traffic nightmare.
"The plan went forward without being vetted by neighborhood councils, homeowners' groups or business groups," says Laura Lake, board member of neighborhood group Fix the City. "And it has severe impacts on neighborhoods by reducing lanes."
Lake is suing the city to stop the plan, citing an Environmental Impact Report showing that traffic congestion would spread from 18 to 36 percent of roads by 2035. She asserts the city pushed the policy—which calls for turning current traffic lanes into bike lanes on certain busy streets—through too quickly without seriously taking into account the potential increase in congestion.
"There is a fundamental disconnect between their methodology and reality," says Lake.
The LA Department of Transportation is quick to claim the report's numbers are based on overly-conservative estimates and do not take into account how the plan will be phased in.
"The EIR looks at all of the planned investments as if they were happening overnight, as if they were going to be implemented tomorrow," says Rubina Ghazarian, a Transportation Planner at LADOT, "It's almost like a worst case scenario where if we did all of this tonight and tomorrow woke up and asked, 'How is the traffic?'"
Ghazarian points to LA Metro's new bike-share program as an essential tool to counteracting congestion by keeping people in their local neighborhoods. Users can rent bikes from pick-up stations around downtown and drop them off at another station is close to their destination.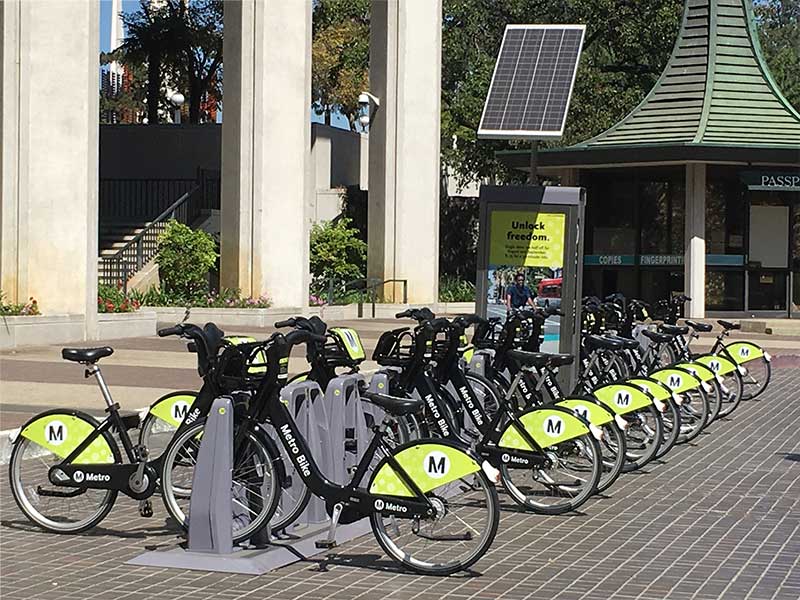 If the project proves successful, the city plans to expand it beyond just downtown. LA metro has yet to release any metrics on the program and results from other bike share projects in cities like Portland, New York and Washington D.C. have been mixed.
Perhaps more than any public project, the process of making LA a safer and more attractive to ride may start with changing the way Angelenos view cyclists.
"I was hit by a car maybe two weeks ago," says Matthew Lopez, a bike courier for Jason's Wine and Spirits in downtown. "I was going down 7th Street and a guy cut me off. He didn't put on his blinker or anything, just straight turned into me."
Lopez says LA drivers need to take it upon themselves to be more aware on the roadway.
"It really just comes down to the people. It's up to the people to determine whether they're going to hit somebody or not hit somebody, if they want to be vigilant and stay away from distracted driving."
Izquierdo agrees, and hopes that LA drivers will learn to respect cyclists the way they do in other cities like New York.
"People know there are bikes on the road, and they look that extra second for a bike. More than creating bike lanes, you need to create a consciousness in people's minds that there are bikes out there."
Planned protected bike lanes on LA's major thoroughfares
Click on the pins to see more