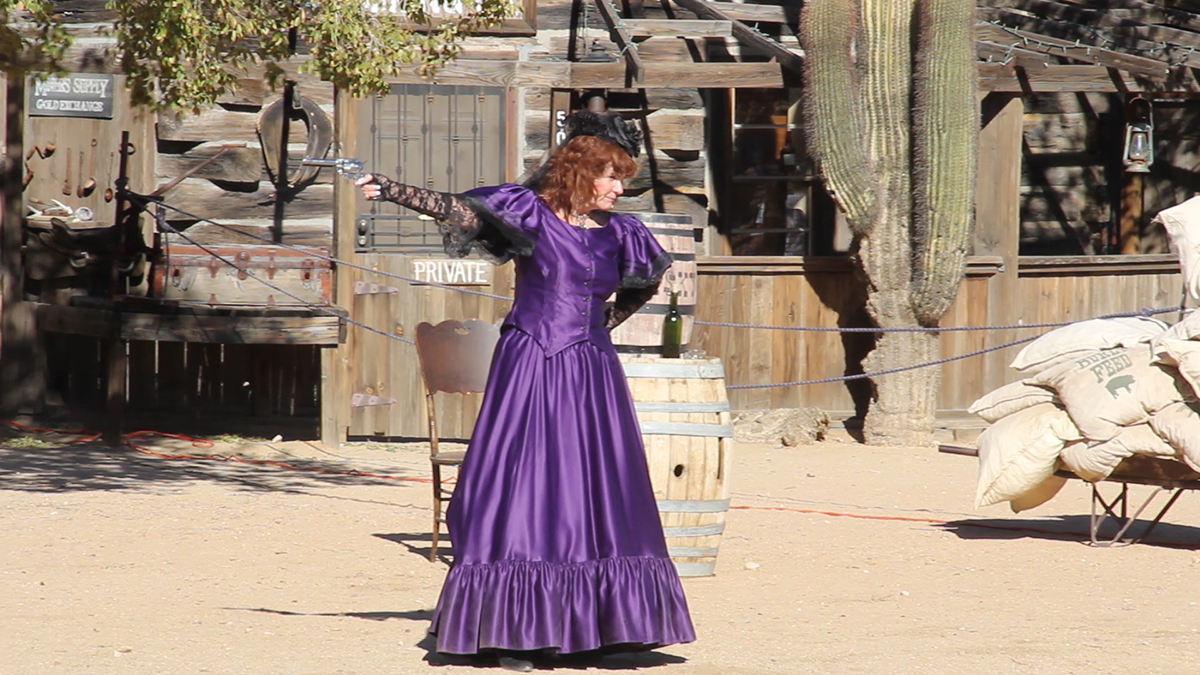 Raelene as "LuLu Belle Fontaine" takes a shot.
A kick of dust poofs into the air, and a wind blows in Pioneertown, California. The fake western set built in the early forties is literally picturesque for the pictures. There's an old saloon, here's a trading post, there's the town hall, here's some live livestock. The sun is hot overhead in the desert, the air is dry and thin. Folks are milling about with families. Little kids are touching the noses of the goats, couples are holding hands and peering into stage windows, and teens are slapping each other and touching any prop they can find. But everyone is slowing making their way toward the Pioneertown Bowl, to find seats on benches and hay bales. Old songs from the days of the settlers play on a loudspeaker system, and about a dozen people are dressed in clothes from days gone by, in a time where women wore petticoats and men had spurs on their boots.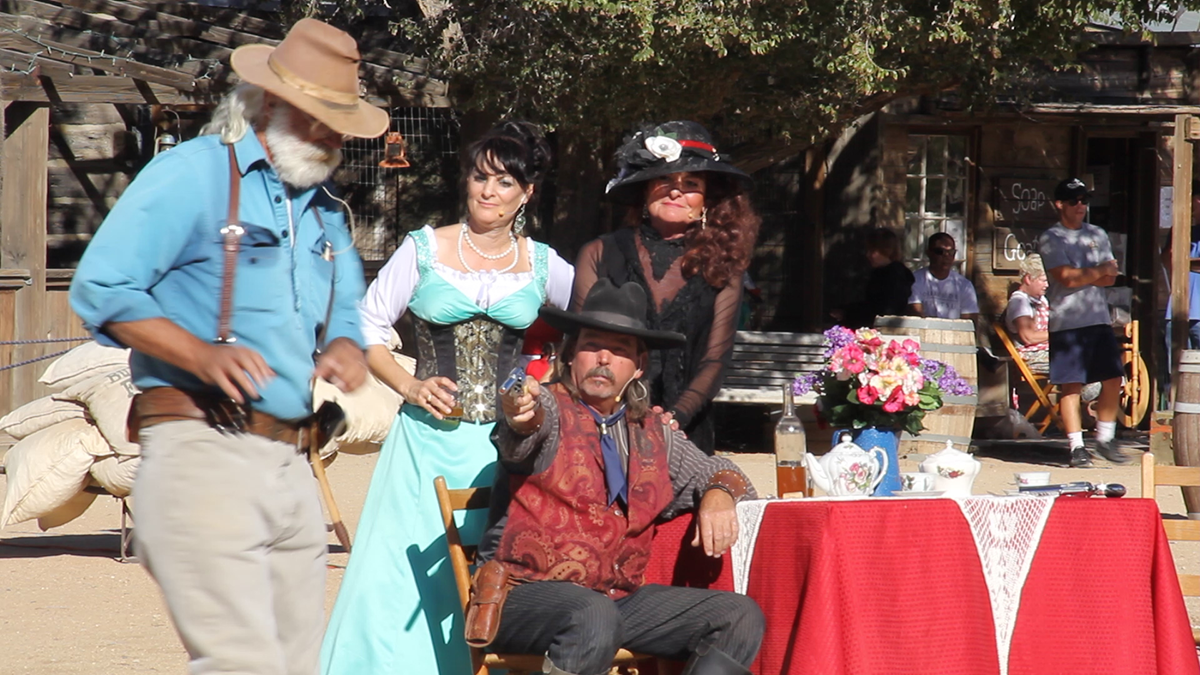 John Henry has had enough of the town drunk.
Raelene Wharff is one of those dozen, with flaming red hair set against her bright purple dress. She is immaculately dressed, par for the course with this acting troupe, from her black lace-up heeled Victorian boots to her petticoats, bustle, tiered dress and complimenting lace hat. She is the president of the reenactment group the "Mane Street Stampede" and has been for the last couple years. Her stage name though, is LuLu Belle Fontaine.
LuLu's character has a full biography and is based on women who in the mid to late nineteenth century started heading west for opportunity. LuLu specifically was a saloon owner, and Wharff brings that tenacity to the open stage of Pioneertown. LuLu came into existence when Raelene met her now husband, Jim Wharff. Jim is an expert on all things edwardian and taught classes at Copper Mountain College. The two met at over the internet and after ten years together, they married on May 26, 2012. The ceremony, fittingly enough, was at the the Mizpah Hotel in Tonopah, NV, a completely accurate Edwardian era hotel, fit with era accurate furniture, lighting and design. The couple and their friends dressed in era accurate clothing and danced to era accurate music.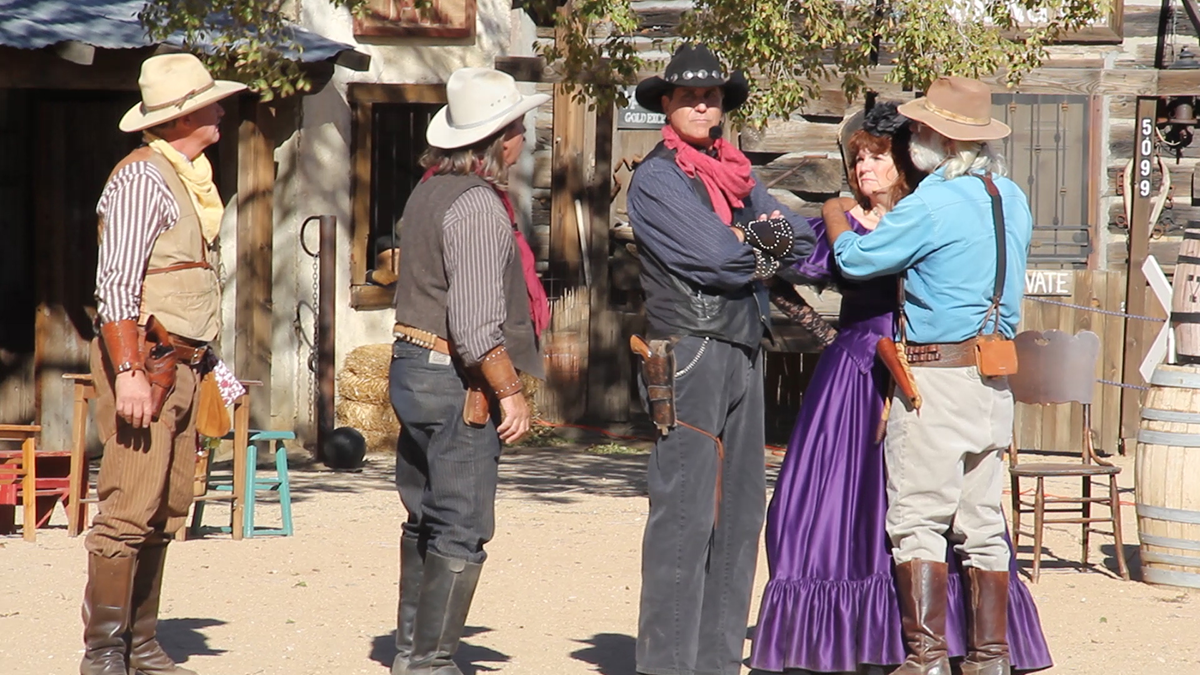 Jim's friends don't want him to marry LuLu Belle.
And it was a ceremony of true love. Twelve years later Raelene and Joe still play their parts every Saturday during the six month performance season - a rigorous commitment for a volunteer endeavor. The reenactment group does take donations, and receives about $100 every show. But only about 25% is used to cover insurance they carry from an NRA affiliate that protects the audience in case of any mishaps. The group uses prop guns but are still required to carry insurance. Most of the costs the players cover themselves, including their expensive costumes and using their own horses. A costume starts around 350 dollars and can go into the thousands. The rest of the money Wharff organizes on behalf of the group to go to local community groups, like the Boys and Girls Club of Yucca Valley.
Adam Everheart, Director of Operations at the Boys and Girls Club of Yucca Valley, says "When we get a special donation like what we get from the Mane Street Stampede, we're able to do something fun that's kind of out of budget. For example we'll do a cupcake decorating class. It enables us to bring an outside program that is something special that the kids will remember, that they'll be able to share with their parents and grandparents."
This year, the reenactment group raised hundreds of dollars beyond their donation at the beginning of the season to the Boys and Girls Club. The Mane Street Stampede ended their last season show with a 500 dollar check to the local Armed Services YMCA for their children programs. Dawn Clark, Executive Director of the ASY Twentynine Palms Branch says the donations make a big difference in their educational curriculum by funding STEM sensory tools for learning science, technology, engineering, and math.
"With this donation, our Parent/Child Interactive Programs have been able … supply their classes with STEM Sensory tools, to... promote interactive learning in their lessons. This impacts not just those enrolled in the class, but their siblings and parents who also attend. It goes a long way to show the community of Twentynine Palms that their children have access to up to date, hands on learning tools to encourage a healthy education."
This is music to Raelene's ears, and half of why she and the rest of the players show up six months of out the year to put on the show. "Mostly, it's for the children. But it's also a great time to get dressed up and have a lot of fun." And it must be fun, because they've been at it for years and don't intend to stop any time soon.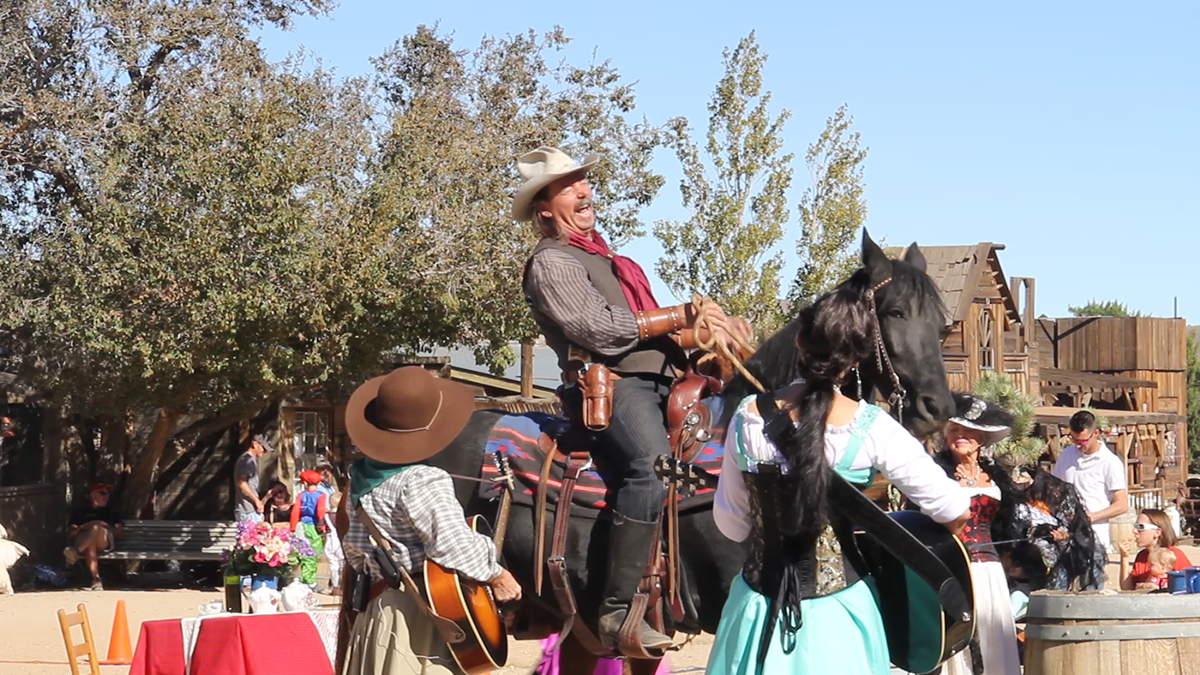 All the players hold a sing-a-long at every performance.
Click on the faces for a close-up of the players!