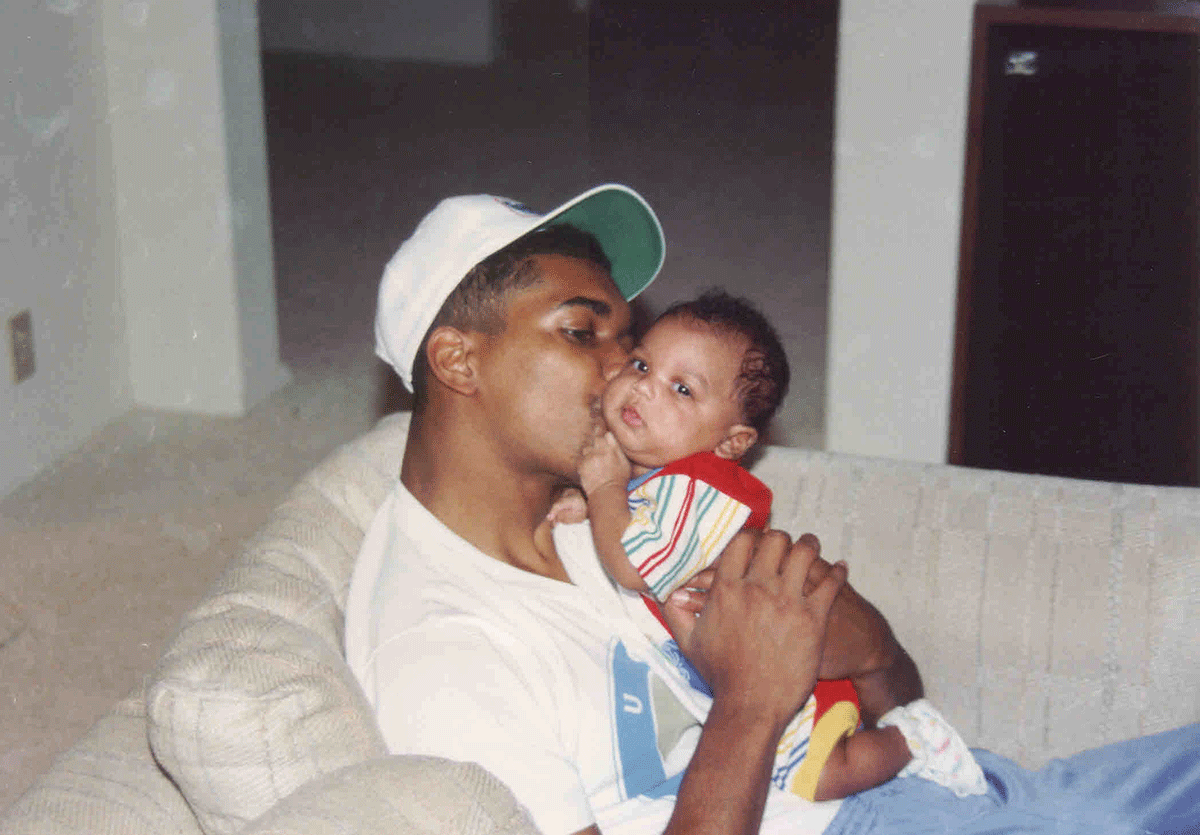 Dennis Price shows Sheldon some affection. (Dennis Price)
Sheldon Price rifles through a stack of DVDs in his hand with a huge smile. And who could blame him?
Price, a cornerback for the NFL's Baltimore Ravens, is living a childhood dream. Playing in the NFL is a great joy for him and allows him to return home to Chino Hills for the end of winter and beginning of spring to visit his family.
Walking through his house, he's surrounded by jerseys with "Price" embroidered on the back. But only half belong to him.
Sheldon's father, Dennis, was also an NFL player, making the active roster for the New York Jets and the Los Angeles Raiders.
Sheldon stops shuffling through the DVDs, and holds one up with pride.
"This one's dope," he says with excitement.
He puts the DVD in the player, sits back and watches the screen with anticipation.
On the screen is a skinnier, much smaller version of the 6'2, 198-pound Sheldon. In the next shot is another familiar face – his father, with a coach's clipboard on the sideline.
Artifacts of a football past
Take tour of Dennis Price's office, where each item of memorabilia has a story.
At the earliest stages of Sheldon's football career, Price was an ever-present figure coaching his son. Sheldon looks back fondly at the times he spent with his father as a pee-wee football participant.
"Those were probably some of the most fun times playing football," Sheldon says. "He was like, 'you're one of the better players on this team, so I'm going to jump on your back before I get on anybody else's.'
I'll always treasure that."
Sheldon relished the chance to be pushed by his dad. He always believed that Price's knowledge was an asset and helped him learn football.
"It's one thing to coach the position, and it's another to coach and play the position," Sheldon says. "It wasn't hard. He coached us all fair and he coached us all well because a lot of us were able to go on to be successful in high school and throughout college."
Price enjoyed the time he played in the NFL. However, he believes that the knowledge he gained at the professional level was not essential to molding Sheldon into the player that he became.
"I probably could have coached Sheldon without it," Price says. "It did help me give him some things that maybe your average dad who played through high school didn't have access to.
"The contacts that I made in playing college and playing pro, he got to meet a lot of people who gave him advice and instruction," he says.
Together they formed a formidable combo on the field. One year, they recovered from an up and down season to reach the Super Bowl of their pee-wee league. Price remembers that season fondly.
"You watch professional teams win championships, you can imagine that feeling," Price says. "The things that the kids overcame to become champions, that's what made it special."
Sheldon cites that game as one of his favorite moments playing under his dad. However, it was not because of his performance on the field. It was his father reaction to winning that really stuck with him.
"You could tell he was super hyped about it," Sheldon said. "I didn't think he would be. To see how happy he was, you could tell it meant just as much to him as it did to us."
Football is not the only thing that the two Price's talk about now that Sheldon is older, but was one the first things that helped them bond. The younger Price followed in his father's footsteps playing at the University of California at Los Angeles on an athletic scholarship.
Sheldon might not be finished mimicking his dad.
"Hopefully I have a son, and I can coach him too. I never forget running around the field know that my dad got me started," Sheldon says.
"Me playing, and repeating the whole cycle would be pretty dope."