When the final whistle blew ending an American Youth Soccer Organization tournament at Kenneth Hahn Park in Los Angeles, Nancy Nelson found herself in a familiar place – the winner's podium.
As the game ended with her team winning the tournament, her best player, Faith Davis, was the first to come hug her. But this was no ordinary hug between a player and her coach. There was something more.
"I'm so happy, grandma!" Faith screamed.
It was another tournament win for the veteran AYSO coach, who can't remember how many tournaments she has won in 30 years of coaching. By her count, this was the 64th team she had coached.
"I watched these coaches screaming at the kids, and the kids not really knowing what to do with that," Nelson said, who became a coach knowing nothing about the game. "I thought I could do better than that."
Nelson did not need to be a superstar player or even a passionate soccer fan to become a coach. But she did have to put in some work.
The wins came immediately. Nelson won her first tournament her first year as coach, and never looked back. She made up for her lack of opportunity to play sports coaching the sport.
Nelson grew up in a different era of American history. Title IX wasn't a thought in lawmakers' minds, and the numbers of sports available for women were few. Title IX was passed in 1972, and deemed that no person be denied benefits or be subjected to discrimination based on sex.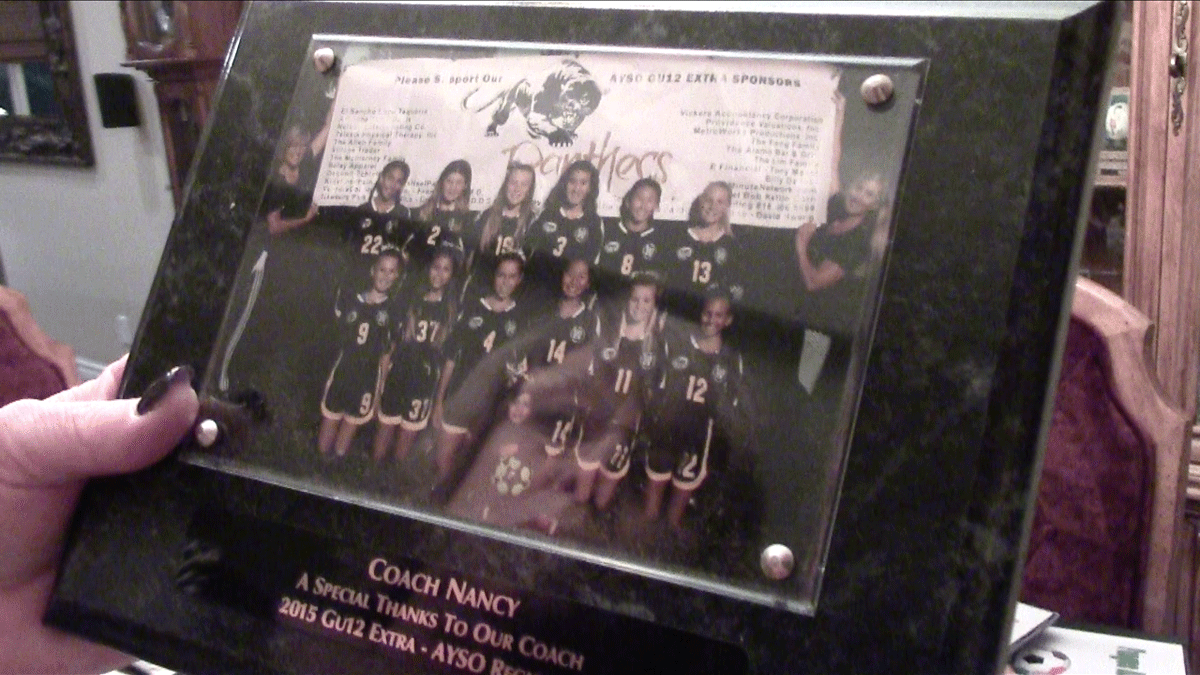 Nelson's latest team with her granddaughter. (Daniel Tran/Annenberg Media)
For girls, that meant that schools were required to provide the same opportunities that were afforded to boys; including competitive sports.
For Nelson, however, the only sport she had available to play when she was younger was softball.
Faith may be a dominant player, but her grandmother was the coach who brought it all together to make the game a great experience for everyone. There were other players who were a part of the team, after all, and the last thing Nelson wanted to do was call out a player in a negative light.
"My style in life is not to be critical, but helpful," Nelson said. "I think it is a wonderful style, especially with girls. They love the praise."
One of Nelson's favorite practices of positive reinforcement is handing out an offensive, defensive, and hustle award at the end of games. Her praise isn't just limited to her own team, though.
"We let the girls on the team pick a player on the team we just played against to award a sportsmanship pin," Nelson said. "The other teams love it."
Nelson honed this coaching style when she coached her daughters. One of those daughters is Faith's mom, Melissa Davis, who fell in love with the sport under the watchful eye of Nelson.
"I always felt special to have my mom coaching me," Davis said. "I knew she was a great coach, so it was a really positive experience for me."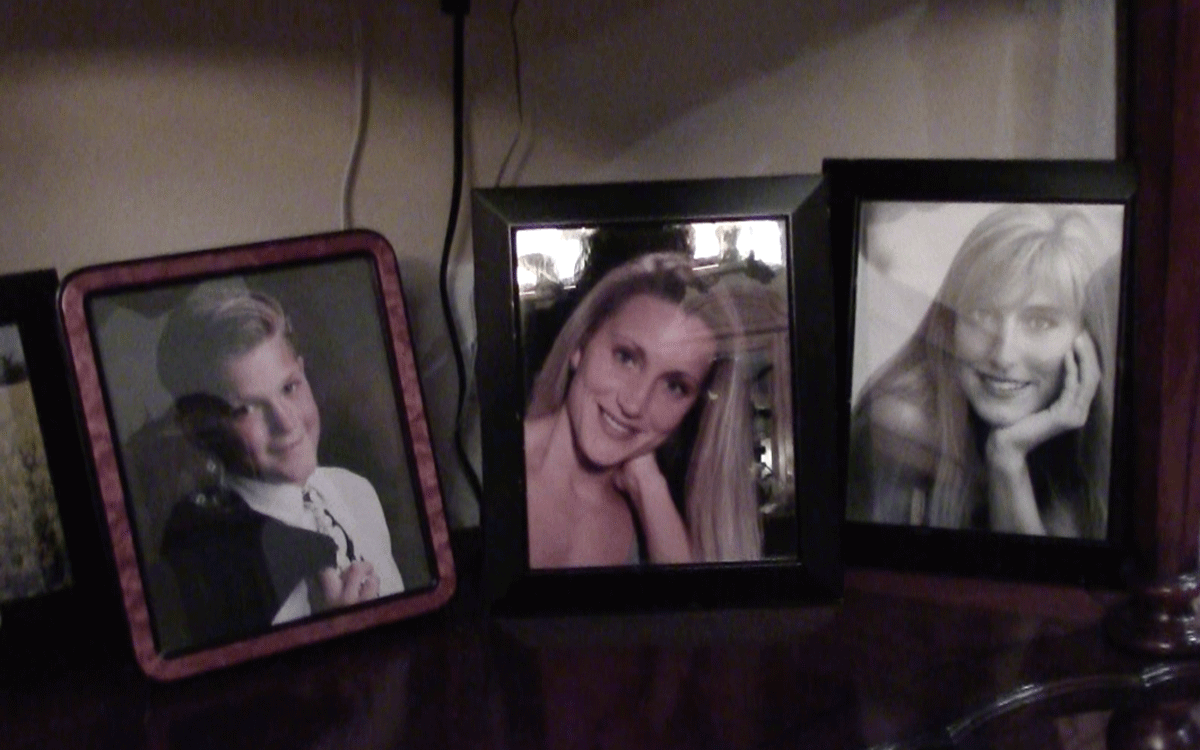 Nelson's children. Melissa is in the center. (Daniel Tran/Annenberg Media)
Davis was a fiery competitor during her youth soccer days, and continues to play the sport today. Not only did she love playing for her mom, she loved coaching with her as well.
Nelson and Davis joined forces on the sideline where the two complemented each other's styles. They coached together for a couple years. Nelson had more of a defensive mind, while Davis focused on the offensive attack. It didn't hurt that Nelson took most of the paperwork responsibility as well.
"On the sidelines, we had the same coaching style with positive reinforcement," Davis said. "We were stronger together for sure."
At times, Davis needed that strength when she realized that coaching her daughter might not have been as easy as her mom made it look. Faith would get discouraged at times, losing focus and effort when things weren't going her way. Davis would have a hard time getting her back on track.
"If I kept on trying to get her to snap out of it, it would get worse," Davis said about Faith's bad moments. "Later in the day she would apologize for acting bratty, which is good."
There were things that Davis believed she could have done better as well.
Davis knew that a time would come that she would have to stop coaching Faith. Her skills coaching could only go so far, and she knew that if Faith advanced in soccer, she would need coaching to advance with her.
Although she liked coaching her daughter, Davis knew that playing was her real passion and recognized that before any damage to the relationship could be done.
Even armed with all the knowledge she gained playing soccer, Davis would not go on to be a successful coach like her mom. She recognizes that her mom, coming into coaching with no knowledge and still being successful, is special.
"I think that when someone is smart, competitive, can learn the game and how to do it well, it's pretty cool," Davis said. "I think it's a natural competitive trait that she had."
Nelson will be the first to tell you that she's always had that fire when it came to athletics, but nowhere to show it until she coached. However, she never let that get in the way of the kids having fun.
"It's a kids game," Nelson advises other parent coaches. "Let the kids play. Let them have fun. If you feel like they went out there and tried their best, be happy!"